This EMF Meter can test electric field strength and magnetic field strength to reach the optimal test result. It's widely used to test and learn electromagnetic radiation situations indoors and outdoor. Suitable to measure the electro-magnetic generated machine, measure low-frequency appliance, and high-frequency radiation appliance.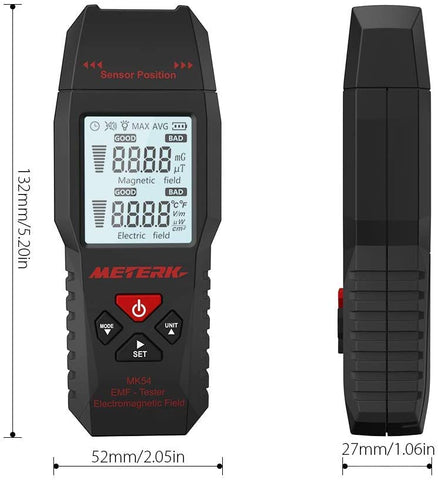 Features:
One EMF Meter with Two Uses - Testing the electric field and the magnetic field strength at the same time.
Measure Radiation - of TV, induction cooker, rice cooker, refrigerator, computer, appliances, electrical wires, etc.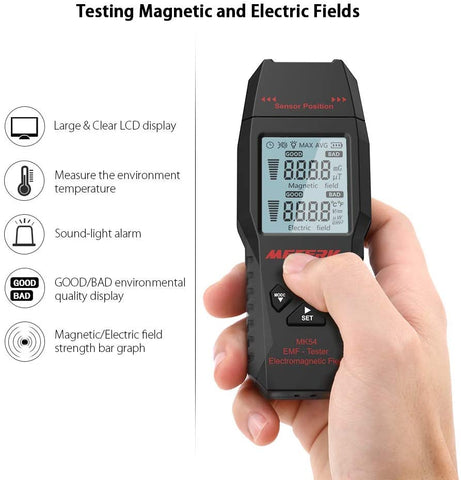 Sound-light Alarm - When the test result exceeds the safe value, the instrument will alarm automatically.
Data Hold & Max Measurement - One-key locks the radiation value.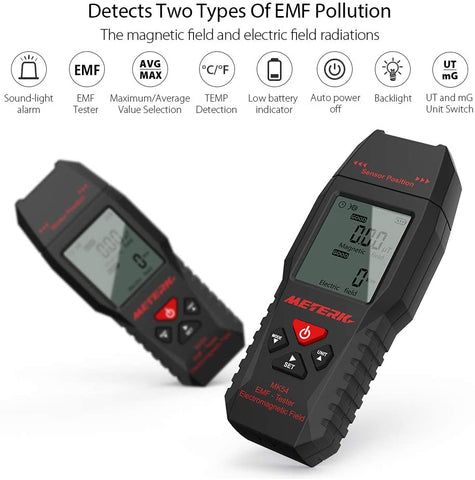 Large & Clear LCD Display - of the values for easy reading.
Easy to Operate with Easy One-hand Operation - Easy to carry and make field measurements.
Measure the Environment Temperature  - with 2 temperature units (℃ and ℉).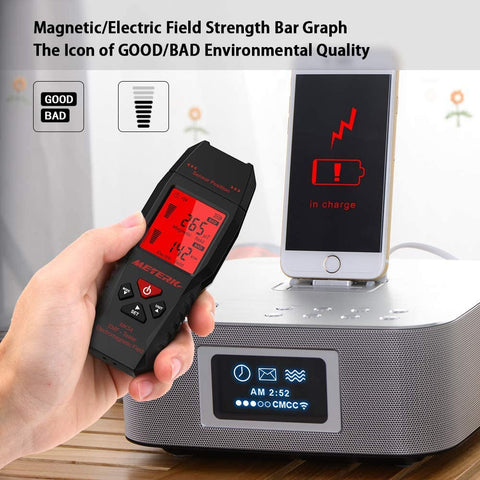 Specifications:
Color: Black   
Material: ABS Plastic
Display: 4 digits LCD Display
Unit: mG / μT (Magnetic Field), V/m (Electric Field)
Magnetic Field Strength Range: 0.01~199.9μT (0.1~1999mG)
Electric Field Strength Range: 0~1999V/m
Accuracy: ±5% (50μT to 200μT)μT at 50Hz or 60Hz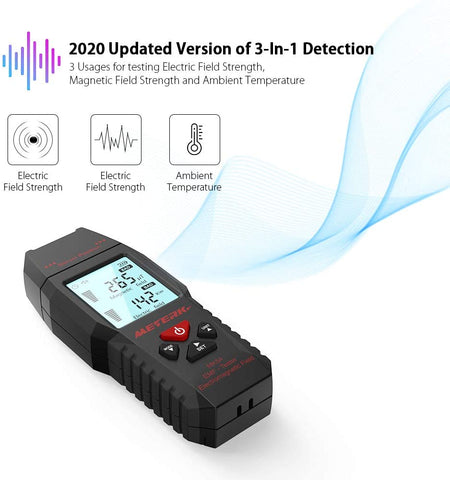 Magnetic Field Strength Resolution: 0.01μT (0.1mG)
Electric Field Strength Resolution: 1V/m
Magnetic Field Strength Frequency Range: 20Hz~300Hz
Electric Field Strength Frequency Range: 20Hz~3500MHz
Temperature Measurement Range: -10~50℃ / 14~122℉
Temperature Resolution: 0.1℃
Number of Axis: Single Axis Inductive Head
Sampling Rate: 0.5 Seconds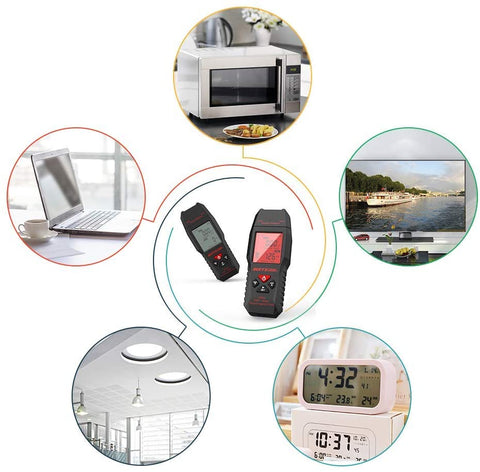 Test Mode: Bimodule Synchronous Test
Operating Temperature: 0~50℃, Relative Humidity 0~80%
Storage Temperature: -10~50℃, Relative Humidity: 0~70%
Power Supply: 3 * 1.5V AAA Battery (Included)
Item Size: Approx. 130 * 52 * 27mm / 5.1 * 2.0 * 1.1in (L * W * H)
Item Weight: Approx. 109g / 3.8oz
Package Size: Approx. 19.5 * 7.5 * 3.5cm / 7.7 * 3.0 * 1.4in (L * W * H)
Package Weight: Approx. 161g / 5.7oz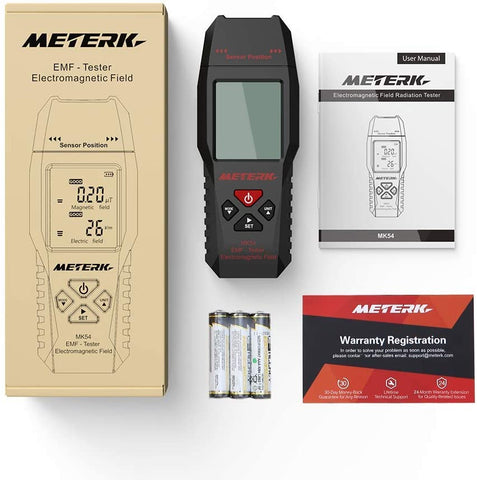 Package List:
1 * Electromagnetic Field Radiation Detector(EMF Meter)
3 * 1.5V AAA Battery
1 * User Manual (English + French + German + Italy + Spanish + Japanese)  
1 * Warranty Registration