Meterk Cordless Car High-Pressure Washer Multi-Function Electric Cleaner with Adjustable Nozzle 20V Batteries Portable Power Washer Suitable for Washing Cars/Watering Flowers/Cleaning Floors

5 in 1 Multi-function nozzle
The Universal rotating nozzle can be 0-150° rotation to adjust the angle of water output, and the 5 modes of high-pressure direct spray, fan spray, and 45° free spraying can be adjusted at will, we also provide a foaming pot for daily cleaning. Fast foaming speed, fine and even foam, easy to wash the car.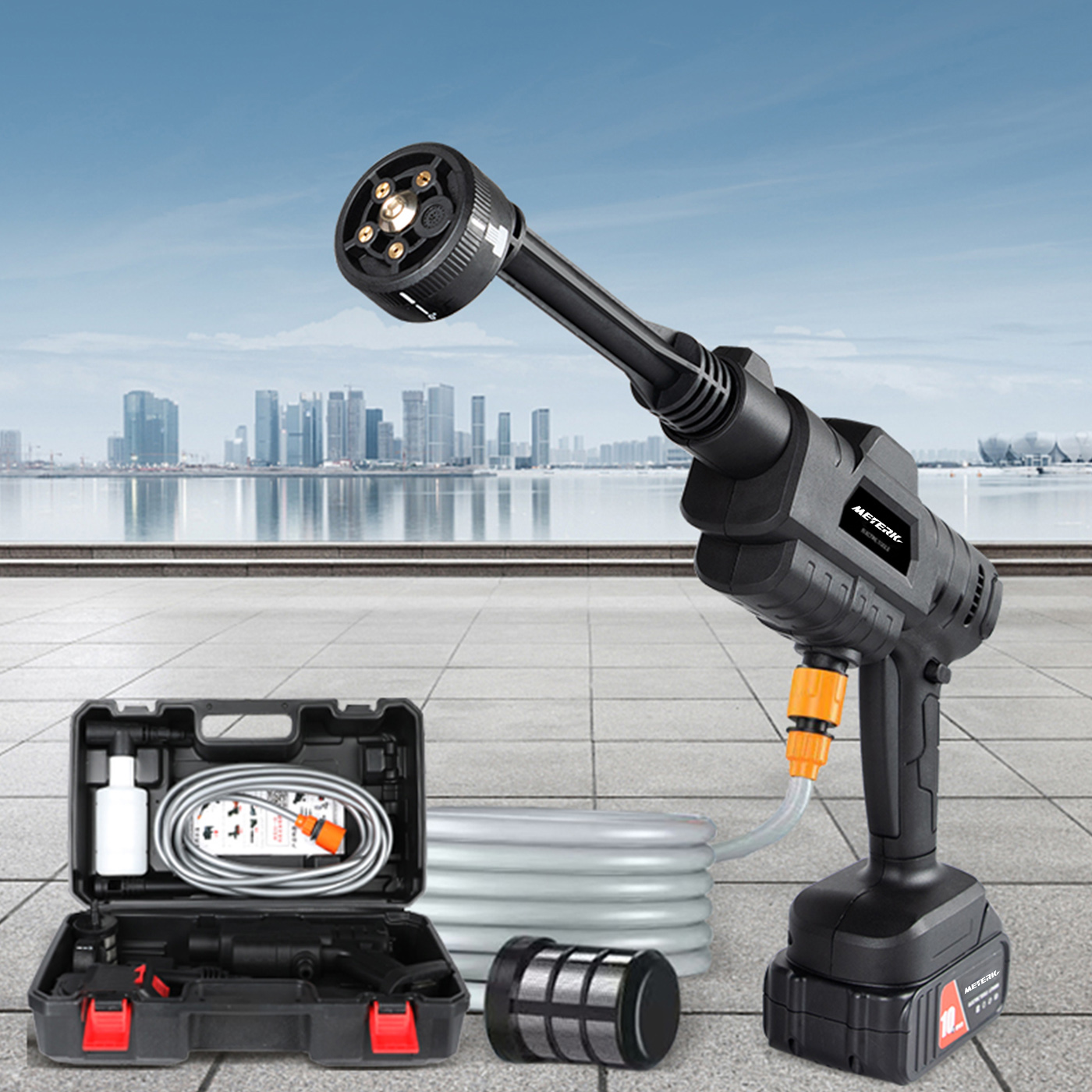 Powerful Motor
Hydro shot pressure washer adopts intelligent induction frequency conversion pure copper core motor, longer service life, 500W high power, faster, stronger, and more powerful water output. Max. 435 PSI working pressure with max. 0.5 MPA water intake pressure, the water can be pressed to a distance of 13-16FT within 8 seconds and the flow rate is 5.5L/min.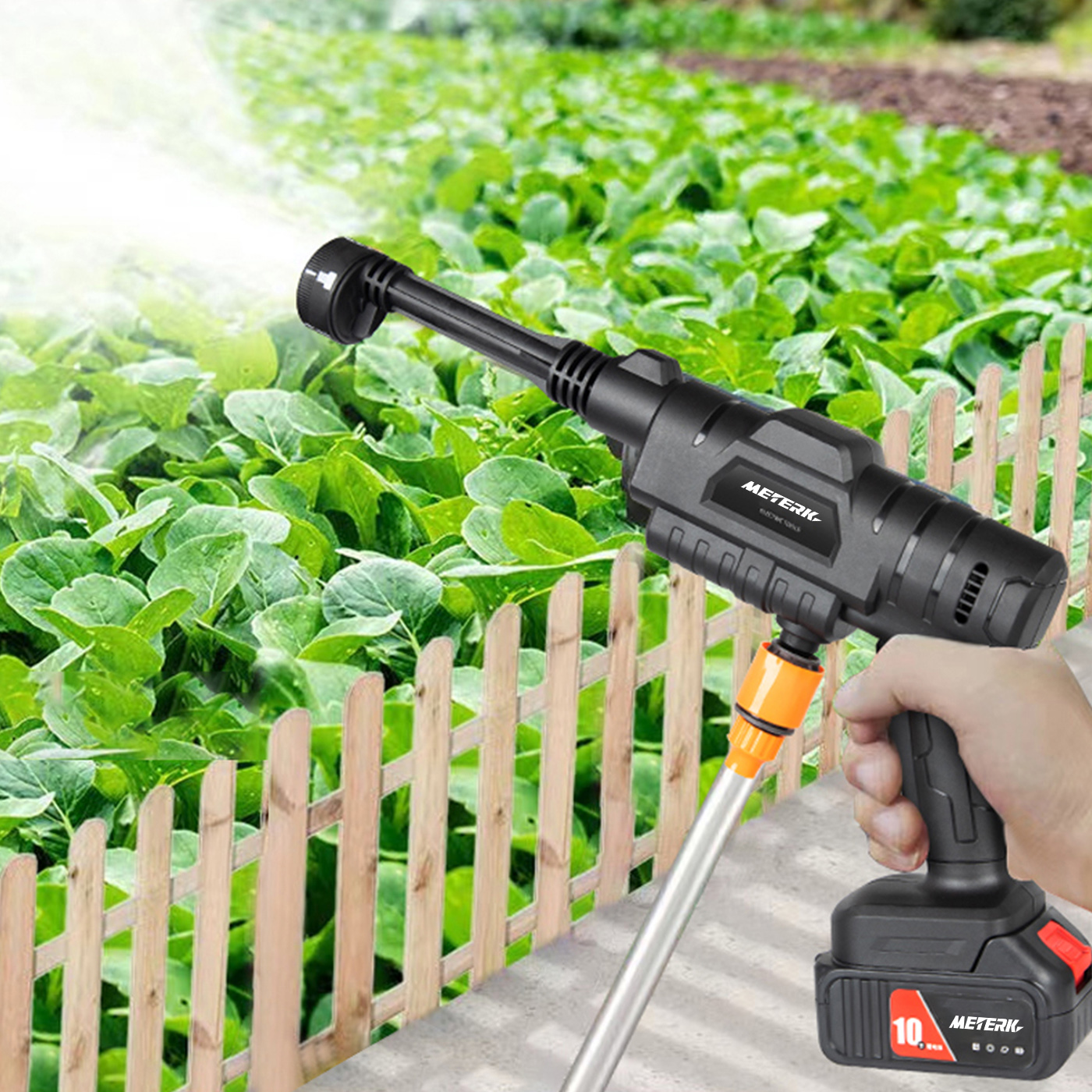 Rechargeable Cordless Pressure Washer
The portable pressure washer is equipped with a 7500mAh battery and the continuous working time is 50 minutes. (Please charge before use.) The built-in stainless steel fine filters impurities, particles, waste leaves, and sludge in the water, work can be done anywhere, just insert the hose into the lakes, swimming pools, docks, buckets, or taps.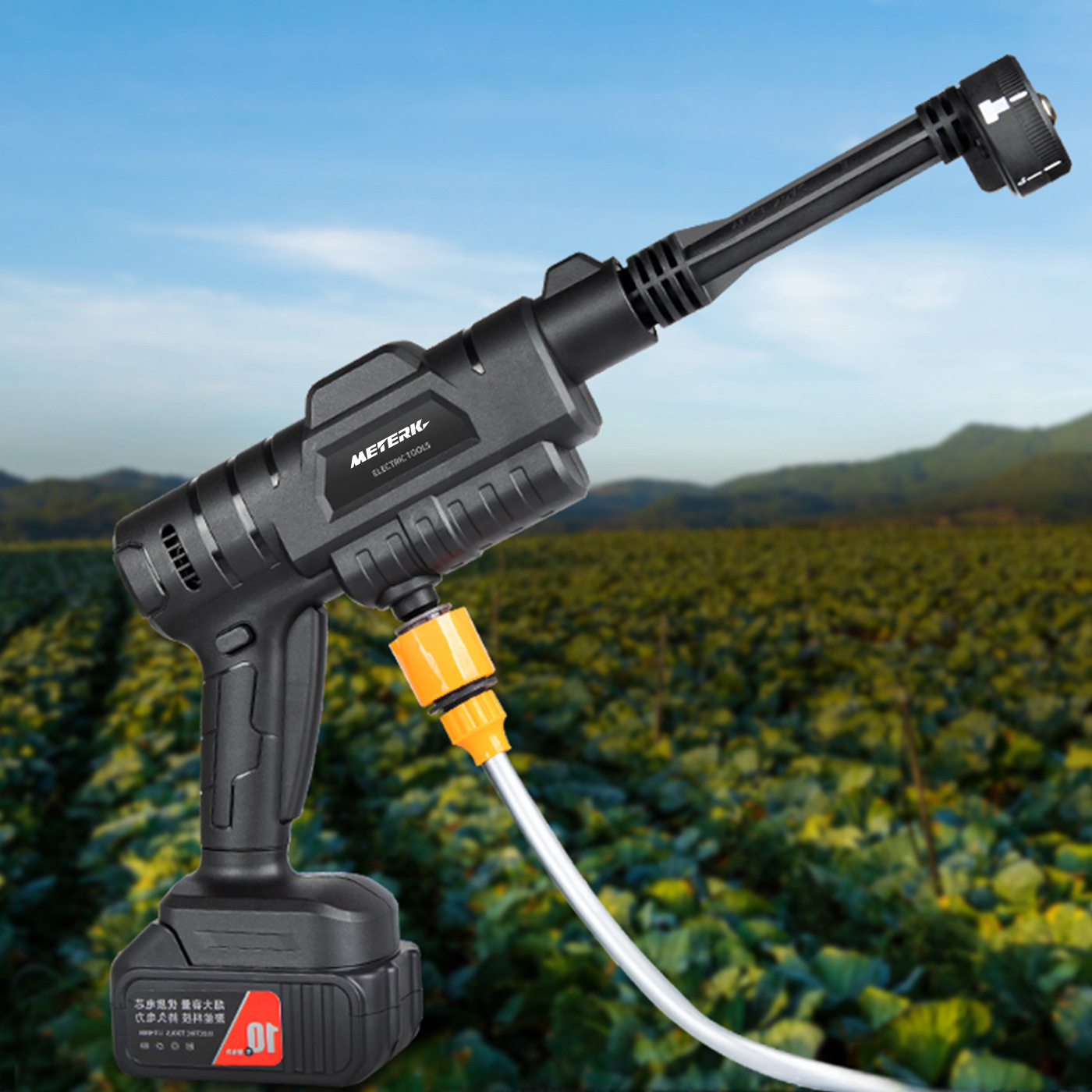 Multiple-functions and application
The portable pressure washer is suitable for all kinds of car, motorcycle, and bicycle cleaning and maintenance, which can easily irrigate the garden and clean the roof, boat, floors, swimming pools, windows, doors, crevices, and corners that are difficult to clean manually. Compared with traditional washing machines, our battery-powered pressure washers are lighter and more portable.

Specifications:
Plug Type: EU / US (Optional)
Material: ABS+CU+FE
Voltage: 20V
MAX PSI: 435 PSI
Motor Speed: 8000/min
Nozzle Rotation Angle: 0-360°
Water Intake Pressure: Max 0.5 MPA
Battery Type: LI-ION
Charger Input(US): 110-120V(AC) / 60Hz
Charger Input(EU&UK): 220-240V(AC) / 50Hz
Charger Power: 15W
Charger Output: 21.5V(DC) / 0.5A
Charging Time(2.0AH): <4 hour
Package Weight: 2900g / 6.39ft
Package Size: 42 * 28 * 15cm / 16.54 * 11.02 * 5.91in

Packing List:
1 * Pressure Washer Machine
1 * 1.5Ah Battery Pack (5*1500mAh cell)
1 * Charger
1 * Extension Rod
1 * Water Pipe Connector
1 * 6ft(5M) Suction Hose
1 * Filter Basket
1 * 3/8" Connector
1 * Two in One Nozzle
1 * Foam Pot
1 * Multifunctional Five in One Nozzle
1 * Blow Molding Box